Waste and Cleanup Risk Assessment
You are here: EPA Home
Dose Compliance Concentrations for Radionuclides in Outdoor Surfaces
Dose Compliance Concentrations for Radionuclides in Outdoor Surfaces (SDCC)
You will need Adobe Reader to view some of the files on this page. See EPA's PDF page to learn more.
Contents
SDCC Frequently Asked Questions (FAQ)
This page presents many questions asked by site users and the applicable responses we hope are helpful. Please search this page for answers to your questions prior to contacting technical support staff. Researching the questions and answers posted here should greatly reduce the time it takes for you to solve many problems that arise from calculating and using this site.
The recommended SDCCs (Dose Compliance Concentrations for Radionuclides in Outdoor Surfaces) presented on this site are dose-based concentrations, derived from standardized equations combining exposure information assumptions with EPA dose conversion factors that are used for Superfund/RCRA programs. They generally are considered by the Agency to be protective for humans (including sensitive groups) over a lifetime. However, recommended SDCCs are not always useful for a particular site and do not address non-human health endpoints such as ecological impacts. The recommended SDCCs contained in the SDCC table are generic; that is, they are calculated without site-specific information. They may be re-calculated using site-specific data.

They are often used for site "screening" and as initial cleanup goals, if appropriate. SDCCs are not de facto cleanup standards and should not be applied as such. The recommended SDCC's role in site "screening" is to help identify areas, contaminants, and conditions that do not require further federal attention at a particular site. Generally, at sites where contaminant concentrations fall below SDCCs, no further action or study is warranted under the Superfund program, so long as the exposure assumptions at a site match those taken into account by the SDCC calculations. Radionuclide concentrations above the SDCC would not automatically designate a site as "dirty" or trigger a response action. However, exceeding a SDCC suggests that further evaluation of the potential risks that may be posed by site contaminants generally is appropriate. SDCCs also can be useful tools for identifying initial cleanup goals at a site. In this role, SDCCs can provide long-term targets to use during the analysis of different remedial alternatives. By developing SDCCs early in the decision-making process, design staff may be able to streamline the consideration of remedial alternatives.

SDCCs are not intended to be de facto cleanup standards; however, they could be used to establish final cleanup levels for a site after a proper evaluation takes place. In the Superfund program, much of this evaluation is carried out as part of the nine criteria for remedy selection outlined in the National Oil and Hazardous Substances Pollution Contingency Plan (NCP). Once the nine criteria analysis is completed, the SDCC may be retained as is or modified (based on site-specific information) prior to becoming established as a cleanup standard. This site-specific cleanup level typically is then documented in the Record of Decision.

The recommended SDCC database is updated when new toxicity values are presented by the EPA. This is generally done monthly. However, there may be times when more than one month passes without the release of updated toxicity values. Please take note of the "What's New" page to identify when toxicity values are updated.

We do not distribute outdated copies of the SDCC table. Each new version of the table supersedes all previous versions. If you wish to maintain previous versions of the SDCCs for a long-term project, you can download the entire table and save multiple versions with a time-stamp.

Many other websites host toxicity information from other countries and other government agencies, similar to this EPA site. The Risk Assessment Information System (RAIS) at http://rais.ornl.gov/ presents toxicity values and toxicity study information. Websites of other governmental agencies are also useful. Call the U.S. EPA Superfund Health Risk Technical Support Center at (513) 569-7300 and ask for toxicity values. Call the ATSDR Information Center toll-free at 1-888-422-8737 for toxicity values and profiles.

To select more than one isotope you can:

left click and hold the button down while dragging the mouse pointer up and down through the isotope list,
hold the control (Ctrl) key down while left clicking on the isotopes desired or
click in the "Select All" box to the bottom right of the isotope list.
Appendix B of the Soil Screening Guidance for Radionuclides Technical Background Document presents a formula for converting SDCCs in pCi/g to mg/kg and also a formula for converting pCi/L to mg/L. The equation is reproduced here with similar conversions for mg/m3 and mg/cm2.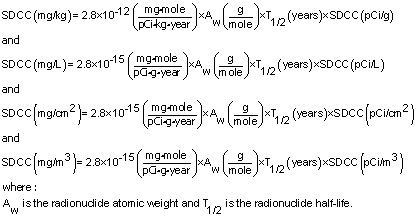 The derivation of the 2.8 × 10-12 and the 2.8 × 10-15 conversions are presented below.

Combination of the derivation of the conversions with the isotope-specific half life and atomic weight is presented here.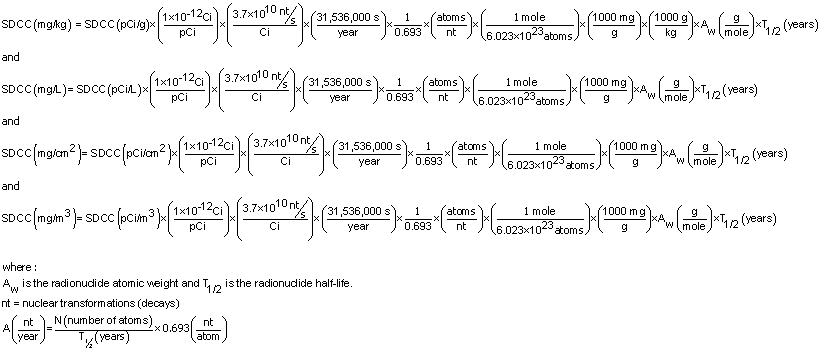 ---